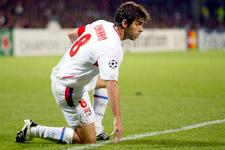 The Barcelona Fiasco… the Rangers Rampage… OL's opening Champions League results have highlighted the club's withdrawal from Europe's leading lights… and it's hard to accept…
OL's great European nights seem like a distant memory now, but a memory that still lives on. The final whistle on Tuesday night was accompanied by much emotion… surprise, resignation, anger, disappointment, sadness, incomprehension, nostalgia. Nostalgia for all those great battles won with blood, sweat and tears, skill, suspense and brilliance. Sometimes it appeared almost surreal how OL dominated those matches…

Big and small alike were given lessons in football in past group stages, even in the last 16… the quarter-finals are still awaiting the great Lyon. Nights against the likes of Inter Milan, PSV Eindhoven, Werder Bremen and AC Milan which will live long in the memory… amazing memories.

There was the Roman whitewash last season… now Barcelona and Rangers have dented Lyons formidable armour. Where is OL's great army of valiant soldiers? It's lost a certain something, but is not yet a walking relic… not by far. If anything, just a bit of luck would be welcome… OL haven't scored since Diarra scored in the 12th minute of the match against Steaua Bucharest last season… in other words 438 minutes of Champions League football.

We can't change the past, but we can use it to help us in the future. President Jean-Michel Aulas is not a man to throw in the towel. The fact that this Lyon compares poorly with that of previous seasons in obvious. But that doesn't mean we'll turn our back on what we love. Gérard Houllier used to say that a team's ability to bounce back was a mark of its quality. The bouncing back is expected to begin this Sunday in Bordeaux and then again in Stuttgart. Lyon are off to a bad start… but it's not over yet. And that glimmer of hope must be transformed into a guiding light at the Gottlieb Daimler Stadion. But until then, what a hangover!