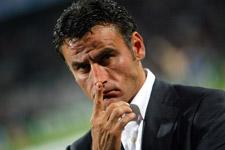 Check out all the reactions to OL's 3-0 loss to Rangers...
Alain Perrin: I regret the first ten minutes of the second half and the start of the match. Some things are hard to explain. I don't have a whole lot to criticize the players for. We spread the play well, attacked down the wings, hit the post and the crossbar. They scored with their chances and luck wasn't on our side. Overall we didn't defend badly, but we made one or two mistakes and they capitalised.
Glasgow are a rival for the qualification. And now they have the edge over us. We need to win the points we dropped here at home when we're on the road.
We didn't underestimate our opponents; we knew exactly how they were going to play.

Mathieu Bodmer: A bad night. Nothing went our way. Their first goal hurt us because we were right in control. They scored a goal each time they came forward. The second killed us because we'd emerged from the break determined to turn it around. As for qualifying, there's 12 points left and we'll do what we can to get them…

Kim Källström: We were hoping for better. I have the feeling we played the whole game in their half of the field. We passed the ball well, found some good openings without ever being able to score against this defensive block. We won't be dropping our heads though, we're competitors. My position today? I saw a lot of the ball and felt pretty good, but the defeat is all I can think about now…

Jean-Michel Aulas:Statistically speaking, it will be hard to qualify from here.
It's a tough situation which demands something special to turn it around.
Sometimes football can be unfair. Rangers were certainly not better than us tonight. We still have a glimmer of hope and we'll be doing everything we can to make it happen.