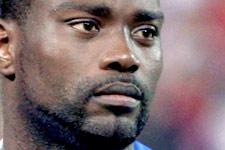 Jean-Claude Darcheville and Walter Smith took part in the traditional Champions League pre-match press conference for Rangers…
How do you feel about playing back on French soil?
It's great, especially considering that last season with Bordeaux we played Lyon three times for two wins and a draw. For the moment, my record against Lyon is good and I hope it will be on Tuesday as well.

There's plenty of competition up front at Rangers. Is it stressful for you to be sitting on the bench?
No. The manager knows exactly how to manage the situation. I was injured when I arrived and for the first two months I wasn't 100 per cent. I've been getting back into it the last month and in another two months I'll be back to my best.

Are you going to play?
I'll have some more treatment on Monday afternoon and train in the evening to see if I'll be able to play.

What chances do you give yourself?
It's 50-50

Can you talk to us a little about Rangers in terms of the play and the club itself?
In terms of the infrastructures, Rangers is a big, big club. I've never seen installations like theirs. As for the team, it's very good. The players always give it everything, but they also know how to play football. Our captain Ferguson could play in any club in Europe.

Were you surprised by Lyon's loss to Barcelona?
We knew that Lyon weren't favourites, but 3-0… that's heavy. Lyon are a lot weaker than in the past. Two years ago, Lyon would never have lost 3-0 at Barça.



---
[IMG42556#R]Walter Smith

As opposed to previous seasons, how do you see this Lyon side?
You have to see how the team adapts in the long term. It's hard to say before the end of the season.

Have you asked any advice from Gérard Houllier?
No.

Did Scotland's win over France recently give you any ideas?
That result can't hurt mentally. In terms of positives, there was also Celtics performance last season. We want to keep the run going, but we no it will be tough.

What type of game are you expecting?
We're expecting a very hard game, like all matches away from home. We have to show how well we can defend and counterattack.

Can you tell us a little about Barry Fergusson, who is quite a controversial figure in France after his influence in getting Paul Le Guen fired from Rangers?
I hope he'll be even more famous in France come Wednesday morning…