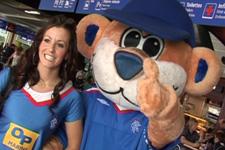 The Rangers players arrived in Lyon on Monday afternoon...
For the Scottish internationals, it's a second trip in three weeks, after their 1-0 win over France at the Stade de France while for Daniel Cousin, it's "a pleasure." "It will be tough," added the former Lens striker,"because Lyon need to get back to winning ways."

For his part, Jean-Claude Darcheville wasmore optimistic: "We've got nothing to lose. We know that a draw would suit us fine. After their victory over France, the Scottish don't have any inferiority complex. They know they can get something from a trip to Lyon." Suffering with a thigh problem, the Guyane-born star was originally declared out of the match but he will now face a late fitness test on Tuesday to decide whether he plays or not. "It's 5à-50," he revealed. At any rate, the Rangers players can count on their mascot Broxi the bear.