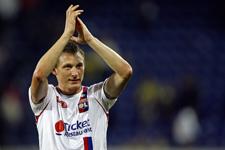 Scorer of Lyon's second goal against Lens, Kim Källström discusses Saturday's match and also Tuesday's upcoming game against Rangers in the Champions League: "If we don't win, it's going to get very, very difficult for us."
What did you make of the 3-0 win over Lens?
It was a good game against a team that came to defend. It was tough to begin with, but once we opened the scoring everything went well and we were able to get the second and third goals. They had one good chance at the start and had they scored, it might have been a different story, like our game against Lille, but they were unable to react to our first goal.

Do you feel like the team is improving?
Yes. We're playing better and better. Against Lille, we deserved more than the draw because we played really well. We've got a fair few new players and in the coaching staff and we're still getting to know each other. It's normal that we're taking it step by step. People keep comparing our results to those of last year, where everything we did was exceptional. It's justy not a fair comparison. We're building something new. OL is the biggest club in France and people expect a lot of us. But you have to set goals for this team, not last year's team. That's how we'll keep going forward.

Do you feel better now that you're back on top of the league?
The Ligue 1 crown is our number one goal and to win it you have stay first. It's sending the right message: Here we are. We're back in first place and we aim to stay there as long as possible. Top prepare for a Champions League game, there's no better way than a win. Although we mustn't forget that we had a good game before we played Barcelona as well.

How are you approaching the match against Rangers?
We're feeling good. Apart from our tough draw against Lille, we're still on a good run in the league. There's no problem with confidence. The match against Glasgow is very important. We can't say that if we lose it's all over, but if we don't win, it's going to get very, very difficult for us.

What type of game are you expecting?
They're a British team that play with their hearts. And it's a Champions League game, so it will be intense, with plenty of contact and desire. We have to be ready. Above all with our skill, technically, we're better. We have to knock the ball around and make them run. And we have to make the most of our chances because in the Champions League you don't get many.