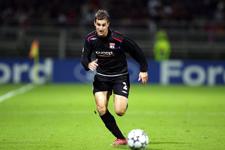 Check out all the reactions to OL's 3-0 win over Lens…
Fabio Grosso: It was a good game and a good result. We wanted the win and we got it. It was important because on Tuesday we have a crucial Champions League match. Lens came looking for a point, but after we'd opened the scoring they were obliged to come out of their shells and that made it easier for us.

François Clerc: We all said that we weren't going to concede a goal, so that we didn't have to chase the game. We know how important it is to open the scoring. We managed to do it and they started to leave us some space to work in.
It was a good win. In light of the games coming up, it's really very good, good for the confidence. Now we have to recover quickly for Glasgow. Rangers play very direct football, very physical. Come Tuesday, we have to win.

Mathieu Bodmer: Overall, with Toto [Squillaci], we played well and did a good job. We deserved to win 3-0. For me, the most important thing is to play, even if it took me 10 or 15 minutes to hit my stride…

Jean-Michel Aulas: It was almost a perfect evening, but we have to remain calm and not get carried away or overly satisfied. This win shows that you always have tio remain humble, in spite of all that's being said about you.
I stepped up a gear in the media to protect the players and the coach. A president has to do that.
I'd also like to tell Bernard Lacombe that it's a great win after his work with Karim [Benzema] and Fabio Santos.
But we're not their yet. This could be a week which sees OL plunge head first towards its destiny.

Alain Perrin: A coach always wants more. But tonight we did what we set out to do, rotate the squad a little while still getting a deserved win and that's what we did. Tonight I saw plenty of reasons to be satisfied with our performance.
The most important thing was to keep a clean sheet and always reposition quickly. But I haven't forgotten that before we took on Barcelona, we also had a comfortable win over Metz, 5-1.
We're on the right track, but there are still plenty of little things that need improving.