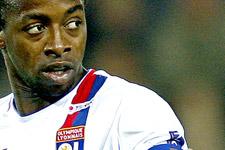 Scorer of three goals this season, Sidney Govou has already found the back of the net often in nine games than he did in all of the last campaign. He talks about the start of the season and about Lyon's big week coming up…
This weekend's visit of Lens is the chance for OL to got equal top of the table. Are you thinking about that?
Yes. We know it's important to win against Lens, and go level top with Nancy. That's what we're chasing. We know what we have to do. It's a home match and we have to claim all three points if we want to stay on the pace.

It could also provide the opportunity to build some confidence?
I don't think we're lacking in confidence. We're coming off a draw at home against Lille. But we didn't play too badly, we just lacked a bit of luck, but the confidence is there.

It's a game as important as Tuesday's match against Rangers…
We know that before you go and play in Europe it's important to get a good result in the championship. Taking on Lens, at home, that's what we'll be trying to do…

Lens played in the Coupe de la Ligue on Wednesday. Will that be an important factor in the result?
It's certainly not nothing. Lens have had a tough calendar right from the start of the season. Yesterday against Lille, they used up a lot of energy. Now they'll have to play with that. Perhaps they'll struggle a little towards the end of the match. We'll have to be patient and then take advantage of that.

In seven days you take on Lens, Rangers and then Bordeaux. Could this week be a turning point?
It is indeed a big week coming up. Against Glasgow< we can take a step towards qualification for the last 16, but we know it won't be easy. We won't put too much pressure on ourselves. We just need to be ready for the matches.

You've already scored three times this season… that must make you happy…
Hopefully it will continue. I've always said, I'm not chasing the Golden Boot. It's true that I was a little disappointed with my performance last season. For the moment I'm doing my job and I hope it continues.

What's changed?
I don't know. Perhaps mentally. Perhaps I'm a little freer in attack to do what I like. I might start on the left, but I can play all across the forward line.

How do you feel on the left?
I don't dislike it. It's good. It changes the way I read the game. Before I was always doing the same thing down the right. But playing on the left and back in midfield gives me more options and I'm rediscovering my best form.

On a personal level, Alain Perrin told us you were injured. What's the problem?
I've got a thigh problem since playing against Metz. I've been suffering a little since last Tuesday, but this morning's test showed it was nothing serious.