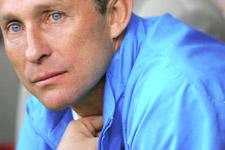 Lens are currently in the relegation zone and have aready changed coaches this season... they have two games in hand and boast the best defence in the league, but also the worst attack...
1 win: Nancy 1-0.

3 draws: PSG 0-0, Valenciennes 0-0, Toulouse 1-1.

3 defeats: Bordeaux 1-0, Strasbourg 2-1, Nice 1-0.

3 different goal scorers: Sidi Keita; Aruna Dindane (penalty), Olivier Monterrubio. 3 goals from 76 shots at goal.

5 goals conceded: 4 from inside the penalty box and 1 from outside. 2 from crossesand one from a corner. 1 header. 5 goals from 96 shots.

10 yellow cards: Hilton 2, Demont 2, Ramos 2, Mangane 1, Kovacevic 1, Aubey 1, Monterrubio 1.

2 red cards: Mangane, Sidi Keita.

24 players used including Kalou and Cousin who have since left the club. Runje and Coulibaly have played every minute of all seven games. Kovacevic, Monterrubio and Demont have also played in all seven league games to date.

Guy Roux was coach for the first four matches: 2 points (2 draws and 2 defeats). Jean-Pierre Papin took over: 4 points (1 victory, 1 draw and 1 defeat).

Les Sang et Or have qualified for the UEFA Cup via the Intertoto Cup, where they beat Odessa, 3-1 and 0-0 and then Young Boys, 1-1 and 5-1. In the UEFA Cup first round first leg against FC Copenhagen they drew 1-1 (Dindane).

In the Coupe de la Ligue, on Wednesday afternoon, Lens defeated Lille 1-0 thanks to a first-half strike by Belgian striker Luigi Pieroni.

Following this match in hand against Lyon, the Northerners still have their home match against Caen before they will be back on par with the rest of the league.

Last 10 games at the Stade Gerland? 8 losses, 1 draw and 1 win (in 1997-98).