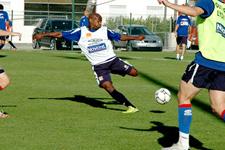 27 players took part in training on Tuesdat afternoon. Karaboué and Dédola both took part. The session startred with fitness work under the direction of Robert Duverne. Sprints, jumps and slalom runs...
The goalkeepers then joined Joël Bats for 'keeper training while the rest continued to work with OL's physical trainer.

After warming up with some passing and volley drills, the outfield players then had a practice game.

Patrick Müller and Romain Beynié worked on their passing, while Fred worked with Sonny on his dribbling and passing.