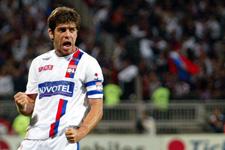 Some players tend to have more success against certain clubs than others and that's certainly the case of the Brazilian Juninho...
First off Juni made his French league debut against Lens at the Stade Félix-Bollaert on July 28, 2001.

Since then, he has scored 8 of his 61 League goals against Les Sang et Or. In 2002-2003, he scored a free-kick passed Warmuz for a 1-0 home win. In 2003-2004, he scored a hat-trick in a 4-0 win at the Stade Gerland, including another free-kick.Itandje was in goal that day. In 2004-2005, he scored, once again, the winning goal of 1-0 home triumph, again passed Itandje. In 2006-2007, he went the double, with another superb free-kick against the hapless Itandje, as OL ran out 4-0 winners at the Stade Bollaert. In th return match that same season he scored another goal in Lyon's 3-0 win. In other words, eight goals in nine games, including seven goals against Itandje! Seven wins, a draw and a defeat, not forgetting another three assists.

If he plays this weekend, he will reacquaint himself with Runje another 'keeper he scored against when the Croatian played for Marseille, in a game which finished 4-0 at the Stade Gerland.