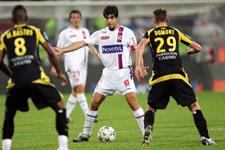 Who said what after OL's clash with Lille…
Alain Perrin: Tonight, I feel a great frustration in terms of the amount of effort we out in to the match and the team spirit we displayed. We found ourselves behind to a stupid goal. And then things just didn't go our way. I really liked the players movement, and in the end, I think we deserved to win. Lille always sit back, well-organised, and hit on the counter.
Cleber Anderson? He played well. With Toto Squillaci, the produced a good performance in the middle.

François Clerc: Everything went well with Cleber Anderson. Unfortunately we conceded the goal from a set piece, but overall, it didn't go too badly.
The heavy loss at Barça was tough and we were still feeling it tonight. But we showed we have character and pride.
Lille defend very well and get forward very quickly.

Claude Puel: I'm satisfied with the result because a draw against a good team like Lyon is always a good result. We really gave it everything and I can't say anything against my players. Tony Sylva kept them at bay for a long time and I don't think we can have too many regrets about the final score.

Mathieu Bodmer: I felt good tonight, even if it took me a little time to get into the match. We played some good football which we couldn't always finish off. Playing against your old team isn't easy.
We mustn't over react. This Lille team will cause a lot of sides trouble this season. It wasn't easy and if we get three points against Lens then we'll be back on track.

Jean-Michel Aulas: I liked what I saw, because after the Barcelona match, Lille promised to very tough indeed. Psychologically, it's been very hard.
We conceded an early goal, but the team fought back immediately. It's a promising point for the future. I'm happy with the lads' performance and we almost deserved to win it at the end. Concerning the incident with Juninho, Alain Perrin dealt with it very well, explaining why he reacted the way he did. I told a journalist that Alain's reaction was of the second degree, that is to say, let it be understood that the next time it happens will be more serious, but without creating a huge crisis.