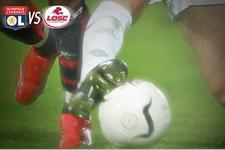 Just 96 hours after the European 'fiasco', Les Lyonnais have the opportunity to erase those memories as they take on draw specialists Lille. A fifth domestic win on the trot is eagerly awaited…
It serves no purpose to sulk. What's done is done… OL made a hash of their 2007-08 European debut. Lyon failed to live up to illustrious recent past at the Camp Nou against a side yet to fully hit its stride, but individually a cut above technically, tactically, a side on the way up and littered with brilliance. Yet beyond all the knee-jerk reactions, there was no shame in losing away to Barça… and don't forget there are five more games in the group stage.

So enough about Europe! We're back to France, where the sextuple French champions have charged back up the table, taking 12 points from a possible 12 in their last four games. Lyon's hit man Benzema has scored at least once in all of the last five matches and OL seem back to their best. Against Claude Puel's Dogues, Alain Perrin may decide to make some changes and inject some fresh legs to the squad. The performances of Keita, Cléber Anderson and, perhaps Bodmer in midfield will be keenly observed… but the win and the manner are expected.

The LOSC have changed a lot over the summer. Two of their stars, Bodmer and Keita have joined the French champions, while Chalmé, Odemwingie, Tavlaridis and Schmitz have all moved on. And they haven't really been replaced, with the exception of Beria and most recently, by Dutch striker Patrick Kuivert… Les Lillois have been collecting draws, six so far for just one win and a loss. But they have scored five headers and they're typically well organised and hard to upset.

OL have the chance to bounce back, to bare their teeth. Three home games in a row, including two in the league. In their own backyard, Lyon have to send a strong message to critics of the French champions who claim they are not the side they were 12 months ago… Now is the time to show they are worthy!