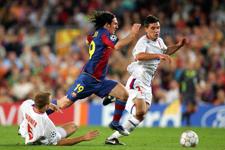 Reactions after the match between FC Barcelona and OL.
Rémy Vercoutre: We're disappointed as it's a pretty big scoreline and we're leaving empty handed, which is hardly what we had in mind when we came here. They are so technically strong that it was hard for us to get the ball from them. We couldn't put them off their game but we're not the last team they'll do it to. We weren't embarrassed but they were very strong and took the ball off us all the time. We need to think on it.

Sidney Govou: It's disappointing because we wanted to do so much better. But the loss makes sense. We couldn't win the ball back, and when you're faced with that, what can you do?
There are more matches to come and we'll have time to work on our stuff. We have another important match on Sunday (against Lille). We'll think about the Champions League later.

Jérémy Toulalan: We started well but then we conceded an unlucky goal. We played well after that – the score doesn't really reflect how the game went. We deserved to lose but not by 3 goals. We ran a lot tonight. We should have stuck closer to one another and we should have kept possession more.

Alain Perrin: In football, you always need an element of luck on your side. Against Metz, we had it, but tonight, it fled. In the second half, we were opened up and hit on the counter – and we paid for it.
We defended well and conceded very few chances.
Barça has a lot of individual qualities and enough talent in every position to create chances. We lost the ball to quickly to put them in any real danger.
Our qualification depends on our performances at Gerland. Despite this defeat, our morale hasn't been snuffed out.

Juninho: It's a tough loss to analyse. We couldn't play much because they always won the ball back and dictated play. In general, Barça's victory is deserved. For me, it's a bit hard to accept.
Do we lack experience? Maybe, but there are other issues. It's tough because it's a long time since we lost 3-0.

Jean-Michel Aulas: The loss wasn't unexpected, considering the differences between the 2 sides. Due to individual errors, they stretched the scoreline in proportions that demonstrate the differences between the 2 clubs.
In the 2nd half, we felt like we could equalise. In order to qualify, we know we have to win all our home games and beat Rangers and Stuttgart on the road. Tonight, we had a lot of things to be happy about – at one point we got back into the match and created some chances.

Bruno Genesio: I think maybe we respected their team a bit too much at the beginning. In the second half, they kept hitting us on the counter. Messi confirmed all the glowing reports. We were expecting a less physical match than this.
We're disappointed but not demoralised. A 3-0 loss in the Champions League is hard to swallow. We need to re-focus on the league now.

Kim Källström : The result makes sense. Barça played well and were excellent on the ball. After half an hour, we had a bit more space to play in. They are a stronger team than us.
It's tough to push up to pressure them because they're very good on the ball. We're not the first side that's found it hard to play Barça. But it's not here that we need to win points to qualify, that's at Gerland. We won't lose hope, every team loses from time to time.

Hatem Ben Arfa: It was a really tough match. Barça played their own game, the moved well and found the spaces. We just have to accept it and bounce back for Sunday's game against Lille.
When they have the ball, they move really well and the opposition has to chase them, on a really big pitch. WE weren't at our best tonight; we didn't really get to play our football. We need to look at that to move forward.

Matthieu Bodmer: It's a huge disappointment – we had hoped to give a good account of ourselves. We held out in the first half but after that we left too much space open. We wanted to play the ball more but they closed us down. They created a lot of chances in the 2nd half . It's a severe scoreline but you can't argue with it.
When you're faced with really good ball players, it's tough to manage the situation. It shows us the direction we need to head in for our own improvement so we can really mix it with the biggest sides.
The only positive for me was that I swapped shirts with Eric Abidal.