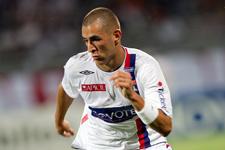 Karim Benzema is resolutely modest despite his recent scoring form's thrusting him into the limelight.
Having scored 8 goals so far in the league season, including a hat trick at Metz, the young OL striker, quite naturally, the centre of attention ahead of Lyon's trip the Nou Camp. But even as he accepts the role of principal striker for the 6-time French champions, his eyes remain averted and his smile embarrassed; he almost blushed when it was put to him that he had rescued the OL side: "It's not just me at Lyon. There is also Juninho, the defenders and midfielders like Govou, Keita and Ben Arfa. »
And don't bother asking him about the L1 scorers chart, which he tops with a 3-goal margin: "it's not one of my goals." All the same he admits that "every striker loves scoring," and that "if I'm lucky enough to score in every match, I can accept it." (Laughs) He consistently refuses to take the limelight for himself, at just 19 years of age, and has an innate footballing brain and a strong sense of collective sacrifice. "I'm lucky that fate is smiling on me and affording me the opportunities it has." Karim Benzema lives and breathes football to the point of having an incredibly mature approach to the balance needed in a team."

He is now faced with a trip to the Nou Camp, where one of his idols, Ronaldo, exploded onto the scene, scoring 39 goals in 44 matches in season 1996-97. Is this fact on his mind? "It's not a special match for me, but sure, you dream about playing sides like Barcelona, Real of AC Milan."

All told, it's really his team-mates who in the best position to talk about the Benzema phenomenon. For Sidney Govou, who watched him develop at the OL youth Academy, " what's really impressive about him is not his awesome statistics but his maturity beyond his years. We knew he had a lot of talent and we knew all his qualities. We knew he would start scoring," he confides. "What's interesting is that he is a full-blooded striker but also someone who knows how to work with others. Not many strikers are like that. He knows how to be part of a team but also how to score at the right moment."

He says he "learnt a lot" in his season under Gérard Houllier, when he was often played on the left. And it was a highly educational year in 2006-07 for Bernard Lacoste's protégé. "I also learned about good recuperation. Recovery and sleeping are a big part of being a good footballer. Today, I obviously feel in good shape and I hope to continue in this vein."
In his eyes, along with what his team-mates bring to his game, the key to his success is almost entirely based on consistent effort in training. He believes hard work is the golden rule, crediting this habit with his "cool head in front of goal". "Ever since I was a kid, I've always been able to put the ball into the back of the net," he smiles.

A starter in everyone of OL official matches this season, the young France striker doesn't seem under pressure to give up his spot in the team. Tired? "No, I'm not tired. I have a hunger for matches and for the ball", he says unable to keep a smile from his face. "I'm not tires, I'm in top form." There is little doubt on that matter.