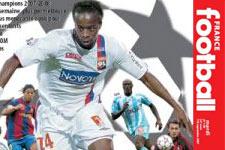 September 18: The press has concentrated on the kick-off of the Champions League for the season.
[IMG41308#L] "Artists at the ready!" L'Equipe has run with a Champions League headline. While OM is facing up to a huge task in taking on Besiktas, OL isn't sitting back. Sébastien Tarrago talks to Rémy Vercoutre about his start to the season. "I'm not Superman. Consistency comes from playing a lot of matches, so you have to accept some irregularities at the beginning." Coupet's understudy also discusses his aerial game, an area that has sometimes led him into strife. "The toughest things are long balls. Often in training you play on half pitches and you don't have to deal with such balls. I need to find some benchmarks. I'm trying with all my heart to improve on that score."
Out of contract at the end of the season, he admits the uncertainty about his future bothers him: "the idea that I could be out of a job gets to me. The next few matches will have a big bearing on that matter."

[IMG41304#L]France football also features the Champions League. Jean-Michel Aulas shows the way to go: "We have to get past the group phase, hunker down and draw out 100% of the squad's potential before we have some important returns from injury." Tomorrow night, "Barcelona will be super-favourites", he declares. "It's up to us to cause an upset."
The President of Olympique Lyonnais also says he detects some "bitterness in the French media. It's as if we're better-known outside France than in it."

[IMG41305#L]Le Progrès devotes a double page to the match. Jérémy Toulalan notes that "for once, OL is the underdog and that's interesting. We'll have nothing to lose and we won't have any inferiority complex." He also predicts that "the trips to Glasgow and Stuttgart will be tough", warning that: "we have to finish 2nd at least." Jean-François Gomez delivers a potted history of FC Barcelona: from Cruyff to Henry via Neeskens and Maradona as well as Brazilians Romario, Rivaldo, Geovanni, Anderson and Ronaldo.
In Barcelona, Christian Lanier interviewed Eric Abidal who confided that he "didn't want to play OL straight away." Meanwhile Deco makes light of his club's current difficulties, asking fans to be patient.

Spanish sports paper Marça reveals in its Tuesday edition that Barça manager Franck Rijkaard has fallen out of favour with club directors, bad results and a bad team image being the catalysts. The Catalunian powerbrokers are now allegedly working on "Plan B".

All attention in Spain is directed towards Ronaldinho's being subbed off against Osasuna. Spanish daily As reveals that the Barça manager is getting more and more frustrated by his star player's form.