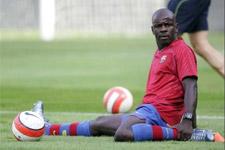 There are Frenchmen who have and who are still playing for the Catalan outfit… an alluring side…
11 Frenchmen have played for FC Barcelona; these 11 players are all internationals, the one with the fewest caps being keeper Richard Dutruel, who only received the call 1 time. From the first Lucien Muller, at the club from 1965 to 1968, to the most recent (Eric Abidal and Thierry Henry, who arrived this season), here are all the Frenchmen who have ever played for Barça:

Dutruel – Thuram, Blanc, Christanval, Abidal – Dehu, Müller, Petit – Giuly, Henry, Dugarry. 2 of them have also played at OL: Giuly and Abidal.

And the job of finding a coach for this special XI was simple: only 1 Frenchman had managed the club: Lucien Muller, in season 1978-79. "Don Luciano or the Little Corporal," is the name in Spain for this footballer who was a player/manager who also played at Real Madrid (1962-1965). Not to mention being a part of the great era of football in Stade de Reims.