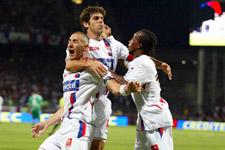 You have to go a fair way back to find the last time OL won 1-5 in L1… a look back…
It was in 1969-70 against Red Star… the OL ranks included goal scorer André Guy.

The last OL triple? Fred against Le Mans in round 38 of season 2005-06 (May 13).

The last hat trick? Juninho against Auxerre on October 19 during season 2002-03.

The last time OL scored 5 goals? Against Bordeaux at Gerland (5-1) in the last round of season 2004-05.

The last time OL scored so quickly? Juninho against on February 5 2005. Juni opened the scoring with a free kick in the 2nd minute.