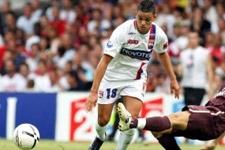 Reactions after the match between Metz and OL.
Ben Arfa: Number 10 is my favourite position but the manager can play me where he wants.
Tonight, we prepared in the best possible way for the Barcelona game, in which we'll give our all, starting from tonight.
With Karim Benzema, when we play together, there is strong complicity that comes naturally. We're very pleased with how it's coming along.

Karim Benzema: Tonight the main things was the 3 points.
As for my being subbed off, I had to leave the match because I've played a lot lately. Also we've a run of matches every 3 days coming up.
As for my partnership with Hatem Ben Arfa, it makes sense; we've played together for several years now. I know where he is without having to look.

Cédric Barbosa: We gifted them some of the goals. They were lucky enough to score early on. We didn't have a bad first half but they scored 3 times from 3 chances. There is a gulf between the 2 sides. Tonight we didn't just lack defensive rigour – when you lose 5-1 it's more than that. Tonight we saw the difference between an international side and a French side.

Jean-Michel Aulas: It's even more reassuring because we prepared without many of our internationals. We were a bit worried, and anyway the pressure is always huge on Lyon. Tonight is a great joy. Our side was effective and played beautifully with Juninho at the helm and an awesome striker in Karim Benzema who scored a fantastic hat trick. Karim and Hatem have immense talent. Tonight, we saw a great team performance as well as an in-form Juninho.
We're in a strong phase now. The best thing is that the media pressure will now ease somewhat and it'll be great for us to prepare for our upcoming games tranquilly and make the most of our confidence, which is high. But we can't make too much of it, we have a Champions League tie with Barcelona, one of Europe's best sides, on Wednesday. When people say that Barça, Stuttgart and Rangers are favourites, it suits me fine.

Christophe Galtier: It was a great win. Alain decided after analysing Metz's game to field an attacking line-up with an extra forward. Milan Baros played 89 minutes with the Czech team against Ireland on Wednesday and needed to recover. Kader Keita had played in Africa and was ill during the week. So we went with Hatem. It was a gamble though because he was ill last week.
The players stuck to the plan and reaped the best of rewards. I think they really enjoyed themselves tonight.

Alain Perrin: We wanted to start well tonight because we knew that Metz are a generous side in need of points. We built a good lead rather quickly, which allowed us to control the game ahead of our match against Barcelona.
We knew that Metz would open up and leave space and the possibility to counter attack. Then we also had the poise and talent of Karim Benzema on our side, and he scored with his early chances.
Hatem Ben Arfa? I'm happy for him – this is payback for the effort he puts in every single day. He is better as a second striker than as a winger.
Now we're focusing on our next match, which is just around the corner.

Rémy Vercoutre: Despite the scoreline, we were in danger a couple of times. We'll have to work on that, because against another side things could have been much worse.
Personally, it was a great night. But also for the team. We were full steam ahead tonight.
Bit by bit, it's all coming together, and that means great matches like tonight. On Wednesday, it won't be easy but we'll go there with serious ambition because we're Olympique Lyonnais and we must approach each match with victory in mind.