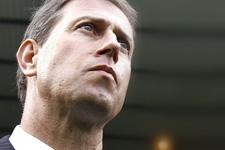 On Thursday Alain Perrin welcomed his internationals back to the squad after the round of Euro 2008 qualifiers and international friendlies. The OL manager discusses his side's preparations for the match against Metz on Saturday at 20:00.
On Saturday, Olympique Lyonnais will take on Metz. How do you prepare for a match like that without your internationals?
We've been waiting for their return so we can adapt their preparation according to the game time they had while away. Especially in the case of Milan Baros, who played a lot with the Czech republic (90 minutes against the Republic of Ireland). We have 2 days to prepare for the Metz game and get the players focused back on their club commitments. It's always tough to get going again after an international break – it interrupts your rhythm, and we were just starting to hit our straps. In our last few games we played hard, determined football as an aggressive and solid unit. We have to maintain that spirit in the upcoming matches.

Isn't it tough to re-motivate the players ahead of the Metz game?
No. There will be a small slump in the first game back as the players recover and slot in with their team-mates again. We're happy to have the locker room a bit more populated again. And gradually we'll get stronger between now and Saturday.

Is it tempting to rotate the squad a bit and to prefer the players who stayed here at Tola Vologe?
Of course. The next week holds 3 matches for us. We'll have to weigh up the game time the internationals have had so we can field a team with fresh legs – you always need to be fresh mentally and physically.

How are you approaching the Metz game? As a preparatory match for the Champions League fixture against Barcelona?
We take the games one at a time. For sure you need to have big performance in your match before a huge game in order to build your confidence. This trip will give us a chance to get back into the swing of competition. We'll play our own game and look to develop it to its full potential. Metz will be a good test of our ambitions.

Are there any particular points you will make to the players before the Metz game?
Just to concentrate fully on this match and not the upcoming ones. We have to ready mentally – in our quest for league points, we're behind schedule and we know the Champions League can distract and interrupt our league campaign. That's why we need to focus on the league for this match. It's important for our confidence. We'll have to be at 100%.

What do you make of FC Metz's start to the season?
Like us, they have had key injuries and have had to rotate their young squad. But having seen their matches, I can assure you that they can play, are enthusiastic and will have nothing to lose when we play them at home. They are a dangerous side, especially at home.

This week has given Cleber Anderson and Hatem Ben Arfa a chance to train normally. How are they doing?
They're at different stages of recuperation. Hatem (Ben Arfa) had a short-term injury and is now quasi-operational. Cleber Anderson will also probably be in the squad so he can start to find his feet. At any rate, he is starting to bloom and understand the technical language. We'll see tomorrow whether he'll start or be on the bench. If we take him to Metz, it'll be because he is ready to play.

Fred is back in training. Where is he at?
He is still running. It's going well, no problem in particular, he's getting back into the swing of things slowly. He mustn't take it too fast – his muscles haven't been worked hard for a while and we don't want to risk another injury.

A few weeks ago he was talking about a return to action during September. Is that a possibility?
The end of September will be here pretty quickly. So we're looking at the end of September/ early October. He has a lot of work left to do – he hasn't kicked a ball or sprinted yet – but there's light at the end of the tunnel.

Any news on Patrick Müller ?
He will have a medical on Friday. He feels good and hopes to rejoin the squad next week.