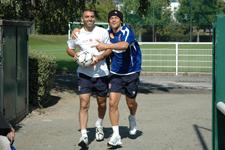 16 Lyonnais players were present for training this morning at Tola Vologe. After a short run, they joined Guillaume Tora for physical conditioning work.
After a warm-up consisting of passing, the players did some one-on-one work with each other.


Then followed some half-pitch matches first with small goals and then large ones, accompanied by Sonny Anderson.


The session finished some stretching.

[IMG42491#C]

Fred joined his team-mates at the end of the session. He began his training with a run alongside Abdel Redissi. Then he did some ball work: juggling, dribbling and passing.