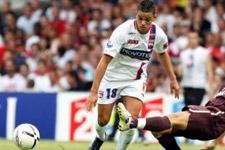 After a promising start to the season, Hatem Ben Arfa was sidelined before the international break with an ankle injury. Now recovered, the U-21 international discusses the 2 upcoming away games in Metz and Barcelona.
We last saw you when you got injured before the break. How are you going now?
It's going well. I returned to training on Tuesday (September 4) but I had tonsillitis on Friday, which stopped me from playing in the CFA on the weekend. Now, everything's fine; I've been training normally for the past 2 days. My ankle is pain-free now.

Will you be fit for the trip to Metz on Saturday?
Yes, I will be but I still need to come back bit by bit and not rush things.

How are you preparing for the trip this weekend?
We're waiting for the rest of the squad to return tomorrow and then we'll work as hard as we can together ahead of this important match in Metz, which will put us in the best possible position ahead of our Champions League clash.

What do you make of FC Metz?
The Messins are currently on the bottom of the table, which means they could well bounce back on Saturday. Teams always want to lift their game against us. After 2 weeks off, winning is crucial.

Personally, do you think this is a key moment in your season?
Since the beginning of the season, what I've really wanted is to play well with the team. I was injured but now I'm on the comeback trail. I'll give everything to make sure we have the best possible season.

Are you approaching this match in Lorraine with the goal of winning a place in the side to take on Barcelona?
No. My goal is to play well in each match. The Barcelona game is a match like any other. I'll give all I have just as I always do.

In your eyes, what does a match at the Nou Camp represent?
It's the cherry on top. But you can't forget the other teams. We won't be looking to secure our qualification against Barcelona; the matches against Stuttgart and Rangers will decide that. Against Barcelona, the motivation will come on its own; we can't wait to get stuck into it.

One imagines though that playing a match in that mythical stadium is still a special prospect…
Of course it will be special. Some great names have played there. I've always admired players like Maradona and Cruyff so it's a huge occasion for me. But I mustn't be over-awed and I need to play this match like any other football game. Playing there will be a pleasure. There will certainly be a lot of emotion, as much for the fans as for the players, but football is always a pleasure and we'll certainly enjoy ourselves there.