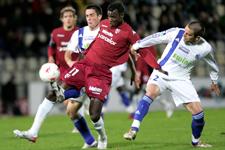 The Messins have scored just 1 goal in 7 matches so far this season, collecting just 2 points… but they're not the only side to have been through such tough times…
Their sluggish start to the season bears a strong resemblance to the performance of Le Mans in 2003-2004. Indeed, the Manceaux had exactly the same record after their first 7 matches. After 38 rounds, Le Mans finished in 19th place in L1 and were relegated to L2 just 1 season after being promoted.

The Messins also had an indifferent start to season 2005-06; they found themselves in last place with 4 points and just 2 goals scored… and ended the season by being relegated.

In terms of goals scored, FC Metz has twice been home to the top flight's most prolific marksman: Bocandé in 1985-86 (23 goals) and Zénier in 1986-87 (18 goals). On one occasion, FC Metz had the best attack in L1: in 1975-76 with 72 goals, 25 of which came from Curioni.