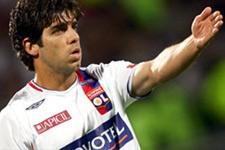 Juninho has made the most of the international break by getting himself back to full fitness ahead of the big matches to come. Interview.
How was today's training session? Fred seemed to be in good spirits…
It was great, he seemed really happy to get back to training and to start playing today. He's been injured for a while, since the end of last season, having re-injured himself with the national team. So he's obviously keen to start scoring again. He's always in a good mood. He's an important player and we need him to bounce back quickly so he can help us win – he scores a lot of goals!

The training sessions have been pretty physical this week…
It's always tough when the internationals leave. It's important for the youngsters – for them, it's preparing for the future. The rest of us just try to work hard. We know there are no matches this weekend but after the break we'll have a series of huge matches to play. We'll have about 7 matches before October and the Champions League starts soon. So we're using this break to train hard and make sure we're in top form!

Personally, you missed the start of the season through injury. Has this week given you a chance to catch up?
Yes, I think I'm on par with the rest of the guys now. The last match went really well, technically and physically. Now we have to string the good results together, to get stronger so we can keep winning. We haven't hit our stride yet, the consistency that has made us so strong has been lacking somewhat. We're still finding the fluency in our play, especially with the new players, and also getting over some big-name injuries… like Cris and Greg for example, because they cost the opposition 3 or 4 scoring chances every game. I'm really pleased with Rémy's performances… he does good things, but he still needs time to settle into his role.
The first phase of the Champions League will be tougher this year than last, but I'm confident and we'll see what happens!

One gets the feeling you've just begun to hit your straps this season. Have the last few matches been better for you?
Yes, I've been playing better in our recent matches, technically and physically. We raked in 9 points last week, which was vital after our 2 consecutive losses in Toulouse and Lorient. I'm happy enough with our start to the season, but we have to keep trying to get better and stronger, win the match in Metz and play a good game in Barcelona…

[IMG42234#R]You've taken the captain's armband back?
When I decided to relinquish the captaincy, the manager made a great choice in Cris as my replacement. He's a talismanic player who is a massive physical presence and who bolsters the team's resolve no matter the opposition. Unfortunately he Got injured soon after being given the role. Then the more senior players were considered for the role, like Sidney Govou, but then he got injured. I always thought Grégory Coupet would make a fine captain but he didn't want to do it.

After Metz, the Champions League kicks off…
For me it would be ideal to play the first match at home as we have in past seasons, which would give us a boost in confidence. Last year, the last match was at home, but not this year. So we have to go to Barcelona knowing they're the favourites and that they score a lot at home. We also have a lot of talent and we're capable of getting a result there… maybe even a win…
The competition is full of strong sides and, as I said after the draw, we have to win our 3 home games to qualify.

Will you be watching the Italy-France match?
Of course, and I think it'll be a great match. I hope France play well and win. Since the World Cup, I think France has been the best side despite the Italians being a solid fighting unit and reigning World Champions.

You say that because you're French now?
Just because I've been in France for a while and my OL team-mates will be in the best position if they come back from the break with a victory under their belts.