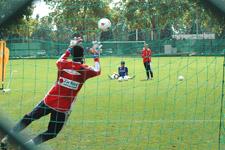 For today's sole training session, physical and ball work are on the cards…
Cleber Anderson, Hatem Ben Arfa and Sébastien Squillaci rejoined the squad… which included some CFA players including keeper Alexandre Bouchard…

The 4 keepers began the session together under the watchful eyes of Joël Bats and Gilles Rousset, while the outfield players warmed up with a couple of laps, some passing and shuttle runs.
Toto Squillaci continued with laps of Tola Vologe and then did some physical exercises with Guillaume Tora before rejoining the squad for a half-pitch match which also included Sonny Anderson, who ad had joined Patrick Müller for some laps earlier in the morning.
After the customary stretching the session with a mad free kick session by the Brazilians with a Brazil jersey as the prize for the keeper who could save a shot from Juninho or Sonny Anderson… while a smiling and high-spirited Fred, who is slowly but surely finding his feet after injury, watched on.