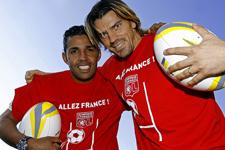 The France side is on the front page of all the sports papers this morning… as well as the Rugby World Cup, which kicks off tonight.
[IMG41303#L]Aujourd'hui en France's front page features 2 charming female supporters in full make-up to support the French XV. "Let the party begin".
A few pages on, Malouda talks football: "It'll be tough if we get a draw".

[IMG41308#L]"The world is rugby," announces sports daily L'Equipe, followed by a Rugby World Cup supplement. Football is also on the menu, with discussions of Henry, Vieira, Nasri and co. Vincent Duluc also notes that François Clerc is a more regular started for the France side than for OL.

[IMG41304#L]France-Football devotes an entire article to François Clerc. His first cap was against the Faroe Islands on October 11 2006, when he had played just 26 top-flight matches. We also learn that this precocious record has a precedent at OL: Serge Chiesa. First capped in 69 against Norway in '69, the Gone had played only 5 L1 matches at the time.

[IMG41305#L]Le Progrès, gives an update on the future of OL's Grand Stade, the project having been presented behind closed doors yesterday by Jean-Michel Aulas and Gérard Collomb to the mayors of East Lyon. "An elegant project" cried the Mayor of Villeurbanne about the stadium that has drawn inspiration from the Arena in Amsterdam… only in a more modern fashion. "It will be diamond shaped," confided Jean-Michel Aulas, and it should feature a partially closed roof and retractable pitch.
The cost of the project is also addressed: €250m, partly financed by the sale of naming rights.
Caroline Auclair explains in her exposé that "the President knew how to sell the project", noting that the development of the site has been done with durability and sustainability in mind.
Its inauguration is still planned for July 2010.