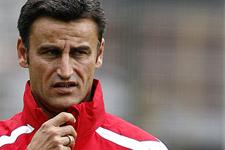 During the international break, Christophe Galtier discusses the beginning of the season before looking ahead to the coming matches.
How is the week without the internationals going?
We're making the most of it to give the players some athletic work – before each session they do various physical work before they kick a ball. It's an unusual week in terms of its content, because we can't work tactically. We've also included some youngsters from the Youth Academy.

It's a bit calmer, do you take advantage of that to talk a bit more to the players?
You know, when you finish a week with 3 wins, everyone's in a good mood. We discuss the matches ahead, which we know are very important. We also follow our players on international duty – their game time especially because while they are playing, the others are simply training. We need to know how they are doing physically and mentally so we can reintegrate the squad as quickly as possible upon their return and stick to winning ways in the upcoming series of matches.
We're also having a good look at the beginning of the season… We're watching and re-watching games so we can analyse what went right and what went wrong and address the issues – so we can avoid history repeating itself.

What's your opinion on OL's start to the season?
We have a good points average, and that's having played various systems. Everyone said Lyon was in difficulty after we lost 2 matches in a row (Toulouse and Lorient), but the Toulouse defeat sticks in our craw a bit because of the facts pf the match: Kallström's sending off and the injuries to Govou and Cris).

Are you preparing for the next couple matches, against Metz and Barcelona?
With the players, no, but with staff, yes. We'll think carefully about the side we field against Metz knowing that soon after we'll travel to Barcelona before hosting Lille. Everyone is saying the trip to Metz will be easy because they are having a tough start to the season, but we know it'll be tough because they need the points. And so do we, we're behind on away points. It also comes just before a huge Champions League tie, which I know occupies a lot of the players' thoughts. We need to work hard psychologically so we don't confuse our objectives. There definitely is a league match before the trip to Barcelona!
Everyone will want to play. Everyone outside the club is talking about the match. But we have to take it step by step. Our first match after the international break is against Metz and it's an important one in our season!

The team has been p[laying better and better, is it frustrating that the international break has come when you were gaining momentum?
We took 9 points from a possible 9 and the players were committed and hungry for the home win. Sure, it's a bit frustrating not to have all our players here to prepare for the big matches coming up.

[IMG42342#R]Juninho seems to slowly be getting back to his best form…
You know, when you see Juni, his face, his behaviour, his commitment and the importance he placed on the win, you can't be worried about the immediate future. He's happy, which helps the fine tuning necessary for his physical preparation, as he was injured for a fortnight during our pre-season preparation. So he's working hard physically and is enjoying working technically. Juni is Juni and he's coming back to form. When I see him each morning, he's a happy man, which is often synonymous with playing well.

You saw him on TV for a long time. Now, when you work with him, what are your impressions?
He's a player who knows himself very well, but I've also discovered and elegant man who needs to feel support around him… which is what we try to give him.

You get the feeling something happened in the side against Le Mans…
That match may not be a benchmark – if it is we'll get into the habit of conceding 2 goals before we get going, which would be problematic! No, I think the team took a big step. They were solid and played fluently. Our finishing was poor in the first hour. But I think that difficulty galvanises a team and that the Le Mans match will be a reference in terms of the players' spirits and their never giving up in search of victory.