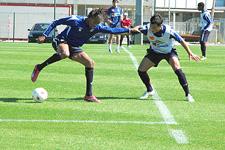 Just one training session on Wednesday… conditioning… ball work… Squillaci didn't train…
The session began with physical conditioning work on the synthetic pitch with Guillaume Tora. Only Sébastien Squillaci, who has a niggle, was absent among this OL squad bereft of its internationals. After the first activity, the players headed to the gym; Beynié, Mounier, Roux, Vercoutre, Hartock, Réveillère, Bodmer, Juninho and Paillot all did some weight work. Meanwhile, Cleber Anderson, Müller and Ben Arfa worked on their rhythm with Abdel Redissi and Sonny Anderson… under the direction of Bruno Génésio.

To finish, these 3 Olympiens headed to the gym while the others, along with several CFA players, did some ball work with Christophe Galtier. As for the balls, Juninho and co began preparing for the Metz game using Kappa balls… real beach balls.