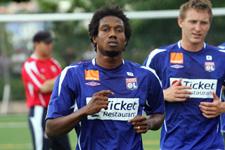 Some goal scorer stats… from regular scorers to the more intermittent… those who score, those who don't… those who just keep on scoring…
Karim Benzema has scored 4 goals in his last 4 L1 matches: 1 in Lorient, 1 against ASSE, 1 in Sochaux and 1against Le Mans. His total is thus far 11 goals (7 on the road and 4 at home; 2 headers, 6 with the right foot and 3 with the left). Who is the last Olympien to have done the same as the young France striker? The Brazilian Elber, in season 2003-04. He scored against Ajaccio (4-0), in Sochaux (2-1 win), 1-0 against Nantes and in Nice (1-0 win). That's a goal in each one of rounds 27, 28, 29 and 30.

Still on Benzema, it should be noted that he also scored in round 38 of season 2006-07 – meaning he has scored 6 of his 11 L1 goals in his last 7 matches! In terms of minutes played (538), that's a ratio of a goal a game!

While Bodmer, in scoring at Sochaux, put an end to a 25-match goal drought; his last strike dates back to round 17 of season 2006-07 (December 9), Keita and Juninho are yet to score this season. That makes 7 goalless L1 matches for the Ivorian; his last dates back to round 37 of season 2006-07 (May 19). As for Juninho, he scored his last against Lens (round 36 of season 2006-07), 8 L1 matches ago.

For the other, less habitual, goal scorers, time is of less importance. Jérémy Toulalan still hasn't opened his OL account. His unique L1 goal? October 2 2004 with Nantes against Strasbourg. François Clerc is still looking for his first L1 goal. Anthony Réveillère has scored 3 L1 goals: 1 in 2001-02 with Rennes against Nantes, 1 in 2002-03 with Rennes in Monaco and 1 with OL on September 27 2003 against Lens (4-0). Kim Källström has scored 23 L1 goals, including 4 last season for OL. His last goal came on March 17 2007 (round 29) in Nancy (3-0 win). 4 away goals – the Swede is yet to score at Gerland.