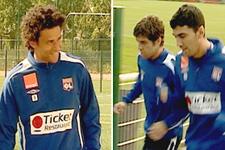 In the glacial winds of Tola Vologe, the Lyonnais stayed warm by working on some footballing basics…
For the non-internationals, it was back to training on Tuesday morning. 14 players started with laps of the training ground, timed by Guillaume Tora; watched by Alain Perrin, Christophe Galtier and the physios. Sonny Anderson, Joël Bats and Bruno Génésio sweated along with the Olympien troupe that featured Beynié, Mounier, Paillot, Rémy and Fabio Santos largely in front of Réveillère, Juninho, Roux, Vercoutre, Hartock and a bit further back Cleber Anderson, Ben Arfa and Müller.

While his team-mates were doing laps, Fred left the treatment room to some lengths of the pitch at a walk. The Brazilian was looking to get his feeling back on a pitch he had been separated from for several weeks due to his foot fracture.