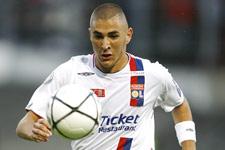 Karim is having a remarkable start to the season. Scorer, creator… and always a starter, the young striker has become an indispensable element of the OL squad…
In the Peace Cup, where he scored 2 goals, set 1 up and was the leading scorer and player of the tournament, Karim started the season on the front foot. With 7 starts in 7 matches (Trophée des Champions and 6 league matches) and 612 from a possible 630 minutes of play, he has scored 5 of OL's 11 goals and was involved in one way or another in 4 others – that totals 9 out of 11 – the young international has some impressive stats: 0.71 goals per match played!

He has taken 20 shots on goal in the league for 5 goals (9 shots on target) and had 7 shots in the Trophée des Champions. He has scored 1 goal with his left foot, 3 with the right and one with a header. He has scored in 5 different matches.

His record in total? 2,826 minutes played as a professional, 17 goals from 123 shots (46 L1 matches and 11 goals). And for the first time in his young career, he is the sole leader on the L1 scorers chart. He has scored 4 of his 5 goals when playing alongside Baros.