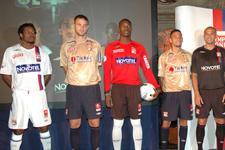 Counterfeiting today represents a 7-9% share of the world's markets, that's €300-500 billion per year.
It is estimated that in France more than 30,000 jobs disappear every year due to counterfeiting. Even more worrying is the evolution the counterfeiting industry has undergone: in just a few decades, it has gone from a backyard operation to a global industry, from luxury items to mass consumables. Also, control of the industry has gone from disparate groups to well-organised networks, often criminal.
This growth in the counterfeiting industry also affects Olympique Lyonnais' official shirts, principally via the internet
. And even though the counterfeits are becoming more and more accomplished, they are still dishonest in terms of quality and origin and can even be dangerous for the end consumer.
The Club reminds its supporters
that the purchase of shirts on the internet, with the exception of official sites or those approved by the Club, is done at one's own risk. The purchase of a counterfeit item is considered an offence on the same level as stealing, and can attract penal and civil sanctions (up to €300,000 in fines and 3 years' imprisonment).
Check out the shirts in detail:
Home
,
Away
,
Europe
The new shirts are available as of July 16. Order your 2007-08 shirt by clicking here.