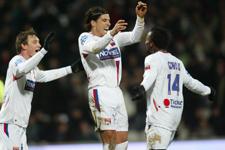 There are defining moments; places where you had to be in order to say, "I was there"; exceptional moments that bring a smile to your face and a glimmer to your eye; scenarios that validate your love of football. On Saturday night, Gerland was the place to be.
There is no doubt: OL's victory over Le Mans in round 7 of Ligue 1 will live long in the memory of OL fans everywhere. With 19 minutes to go, OL was 0-2 down. Seven minutes sufficed for a super-motivated Juninho and his team-mates turn the match around after it seemed there was no way out for the Olympiens. Sometimes all it takes is a spark to set a whole stadium alight: and it was Sidney Govou who did the honours, rounding Pinault and breathing hope back into the Olympiens' night (71').
After that, the unthinkable became the unavoidable. The stadium reached boiling point when Juninho came close to equalising from a Fabio Grosso cross (74'). But it was Benzema, after a free kick from the OL captain, who headed his side back on even terms with their visitors (76'). From another Grosso cross, Baros fired wide (76'), but the Czech had more luck when he latched onto Benzema's flicked-on header from a Juninho corner (78'). In the space of 7 minutes, OL did 3 times what they hadn't been able to do for the first 70. Stupefying!

The Manceaux had up to that point, however, done everything to get the win. They had done the job cleanly, scoring from their first 2 chances. Seconds before the break, Gervinho's cross had slipped through Vercoutre's hands and skidded through to Sessegnon, who tapped into the empty net (44'). And then, just 9 minutes after the break, Sessegnon was at it again and could well have thought he had wiped out all hope for the hosts at Gerland. The Brazilian Gervinho broke again and delivered a cut-back cross for the Le Mans striker who volleyed powerfully home (54'). The job seemed to have been executed to perfection despite the Olympiens', in a 4-3-3 formation, having controlled the game, leaving Romaric and co little space in which to move.
With his first touch, Kim Källström set the tone with a shot that flew well over (1'). Karim Benzema screwed his shot wide (23'). The Lyonnais had even come close to opening the scoring when, having pushed high up the pitch, Fabio Grosso centred for Juninho, who had lost his man at the far post. The OL captain connected with a strong header, wrong-footing Yohann Pelé but cannoning onto the post (29'). A few minutes later the Brazilian's free kick ended up in the Sarthe keeper's gloves after Toto Squillaci came agonisingly close to turning the ball in (31'). Positioned in front of the defensive midfield pairing of Toulalan and Källström, Juni was frequently able to move into attacking positions – and it was after a one-two with Sidney Govou that he lost his one-on-one with Pelé (33'). Just as Sid did after being released into space by Anthony Réveillère (42'). Yohann Pelé then had to fend off a powerful shot from Karim Benzema (52'). Juninho fired wide with an acrobatic shot (52') and Benzema came close to latching onto Grosso's cross (59').

On the back foot but highly motivated, the French champions pushed hard to narrow the scoreline. On the counter, Matsui could have killed the game off, but the Japanese striker couldn't get his shot on target when one-on-one with Vercoutre (61') – surely the turning point of the match! What followed was nothing short of exceptional and unforgettable.

After a difficult win over Saint-Etienne in the derby and their first away win in Sochaux, the Lyonnais registered, in 7 mad minutes, their 3rd coup of a prolific week, the 3rd chapter of a period that could well be the foundation for the rest of the season. Thanks to this win, they are now 5th on the table (with a match in hand), only 4 points from league leaders Nancy, confirming their return to the upper echelons of French football.

Every week lasts 7 days. But at OL, not all weeks have the same value. The first 3 weeks of August brought the Olympiens 3 points; the last one brought them 9. In 7 days, they won 3 times as many points as they did in the preceding 21! It's arithmetically stunning; and in terms of the football as well. With motivation like this, they can look calmly to the future . But they'll have to remember that the hare doesn't always win the race; they'll do well not to give their opposition such a big head start from now on!