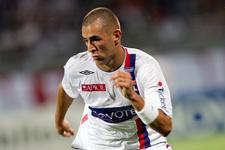 Reactions after the match between OL and Le Mans.
Karim Benzema: We started well and Le Mans tried to get us on the counter. At half time, we managed to recover well and return to the second half with the right intentions. At 2-0 down, we were in deep trouble but we didn't give up. That's the power of Olympique Lyonnais. These are great victories – we just need to savour it.
Personally, it's great that I scored again by my success is due to the team. I never forget that if I score, it's because of my team-mates.

Christophe Galtier: It was a great win. In the first half, it could have been quite different because we created a lot of chances. There was a lot of movement and fluent attacking play.
As for Milan's coming on, we needed some fresh legs up front. We also noticed that Karim wasn't so comfortable as a lone striker. It also allowed us to overlap Milan and Juni while putting Karim in a very specific role – he is also very strong on the flank.

Fabio Grosso: It was a very tough match. We were in trouble for a while. We conceded but finished with an imperious 20 minutes. I feel good with my team-mates. We have to keep it up.

Anthony Réveillère: At 2-0 down, our morale was pretty low. At 2-1, they were more fragile. We kept believing, and also Le Mans started to run out of steam. There was a fair bit of space opening up. Le Mans is a very mobile side, they're tough to control.
Even though it was tough, we'll savour it. We came back from a big deficit, which is great for morale. It was important to win the match before the break.

Alain Perrin: When Milan came on, we can't say it was down to good management. It's normal to bring on fresh players. Rather, it was the players' strength of character and their morale that made the difference. Since Saint-Etienne, we've seen a bunch of guys who fight hard. The first goal was fundamental because it put Le Mans under pressure.
Karim is indeed capable of playing on the left. That allows us to have 2 attackers, 2 finishers. It doesn't stop him from scoring.
We've steadied the ship. 2 points per match, that's the average of a champion.

Jean-Michel Aulas: The result is better than positive. Govou's goal gave everyone their desire back. I would like to salute the fans, who were magnificent and encouraged their team more than ever, and also Rémy Vercoutre's team-mates who went to him at the end to comfort him and let him know all was well.
The players wanted to show that we shouldn't be written off too early. It's a sign of destiny. We went looking for Mancini but couldn't sign him. So we decided to stick with our squad. I know the players will capitalise on this confidence.
Next Saturday is the France-Italy match, and we'll have players on both sides – not many clubs can say as much. We're very proud. Grég will be missing, but we'll all spare a thought for him.