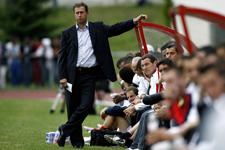 Alain Perrin named an 18-man squad for the trip to Sochaux on Wednesday at 20:45. Juninho, who injured his left thigh, is out and is replaced by Anthony Mounier. Frédéric Roux was named in the squad for the first time.
The OL squad: Baros, Belhadj, Benzema, Bodmer, Clerc, Fabio Santos, Govou, Grosso, Kallström, Keita, Mounier, Paillot, Rémy, Réveillère, Roux, Squillaci, Toulalan and Vercoutre.

Out: Coupet, Hartock, Müller, Cris, Cleber Anderson, Ben Arfa, Fred, Juninho and Beynié.