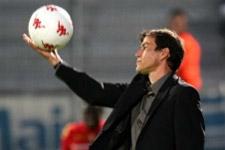 The Manceaux are coming off 2 consecutive defeats; they just let Grafite go despite having hardly made any signings during the summer. They have 10 league points so far…
3 wins: Metz 1-0, in Sochaux 3-1 and in Bordeaux 2-1.

1 draw: Lille 1-1

2 losses: in Monaco 3-1 and against PSG 2-0.

8 goals scored from 98 shots: De Melo 4, Grafite 2, Basa 1, and Matsui 1. 8 goals from inside the area, 1 headed goal; 4 goals after crosses; 1 after a throw-in. 3 goals in the 1st half and 5 after the break.

8 goals conceded from 68 shots: 1 from outside the surface and 7 from inside. 1 headed goal; 1 penalty (Monaco); 2 goals after crosses. 4 goals conceded in either half.

13 yellow cards: Calvé 2, De Melo 2, Basa 2, Sessegnon 1, Grafite 1, Samassa 1, Douillard 1, Matsui 1, Romaric 1 and Maïga 1.

19 players have been used by Rudi Garcia. The defence has played all 6 matches in their entirety, namely: Pelé, Calvé, Basa, Cerdan and Camara. Sessegnon, Matsui, Romaric and Grafite have played in all 6 matches.

Gervinho and Maïga are the only new recruits to have seen game time so far this season – 109 minutes for the 1st and 41 for the second, neither of them having started a match. In terms of departures, Grafite recently joined the list that includes Bangoura, Bonnart, Fanchone, Fischer, Thomas… and manager Hantz, who was replaced by Garcia.

The Sarthois have played OL a total of 7 times… for 7 defeats, including once last season in the quarterfinal of the Coupe de la Ligue.