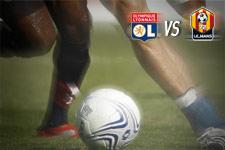 Les Verts… crunched, Sochaux… flattened – now OL just need to finish the big week against Le Mans… before the first major break in the league season. Can the Lyonnais take all 9 points on offer in these 7 days? In terms of the points tally, it would be a fantastic week…
OL
has lifted its head again after the defeats in Toulouse and Lorient.
Le Mans
has dipped in form after a blistering start to the season.
MUC 72
is nonetheless 1 point ahead of
OL
on the table but still the Lyonnais have a game in hand. If history repeats itself, the
Sarthois
will lose on Saturday night – 7 times out of 7 so far, that has been the case. President Lagarda has just let go of
Grafite
, a striker always inspired by playing at Gerland (2 goals in 2 matches). The Brazilian, who already has 2 goals this season, slammed home an impressive 12 last season, the same total as
Bangoura
, who transferred to the Ukraine… that's 24 of their 45 goals last season gone to other clubs. The young
De Melo
must feel that the responsibility for keeping the club's goal tally ticking over has fallen directly on his shoulders. But he has made an excellent start to the season, sitting atop the scorers chart with 4 strikes, along with a certain Karim
Benzema
. It should be an interesting contest…
Rudy Garcia
received no goal scoring reinforcements and is evidently relying on his defence, to which he hasn't made the slightest adjustment in 6 matches, but which has conceded 6 of its 8 goals in the last 2 matches. The former Dijon manager also relies on club captain
Romaric
,
Sessegnon
and also the Japanese
Matsui
, scorer of an incredible goal against Monaco.

Baros, Belhadj, Benzema, Bodmer, Clerc, Fabio Santos, Govou, Grosso, Juninho, Kallström, Keita, Paillot, Rémy, Réveillère, Roux, Squillaci, Toulalan and Vercoutre
The
ambitions
aren't the same for the recently promoted side and the reigning champions of French football. OL, much changed and injury-hit, have responded in the last 180 minutes to their critics by winning both games. The quality of play is improving even though it's far from the form of seasons past. All in good time…
Bodmer
scored the winning goal in Sochaux.
A league goal for the big blond
? His last one dates back to December 9 2006 against Les Verts!
Benzema
just keeps banging them in with alarming regularity: 4 goals in different matches. He is in fact the only player to have done this… along with
Piquionne
.
Toulalan
is doing a gigantic job in front of the back four.
With a win tonight, OL could attain the
the famous average of 2 points per game
; an average that usually wins a side the championship – and which could give the side some breathing room ahead of several matches that are looming large on the horizon – like the tantalising trip to
Barcelona
on September 19. But still, watch out for Romaric and co - they are a tough squad physically, with several hard men built for aerial challenges and other duels. But on top of that, the team has a reputation of taking risks to get a result – no matter the opposition… It would be a real shame not to secure these 3 much anticipated points.