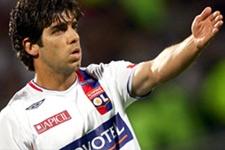 Juninho discusses the Champions League draw. While he concedes that OL's group is "very tough", the Brazilian remains confident. "We're up to the tack," he confirms.
What's your first reaction after the Champions League draw?
It's a tough group but we can get through it. We have to enjoy playing these matches. We make such an effort to qualify for the Champions League that we can't afford to lose, even if it's against Barça. It's an even group. The key will be to use our home ground advantage at Gerland and win 9 home points.

Is playing against Barça a dream or a nightmare?
When you're younger, it's a dream. Now it's more of a pleasure. They have players who are very close to perfection, the best in every position. Barça's biggest strength is that they always have a strong to desire to really play football; it's the club's mentality. But we can't think only of Barça; We remember how hard it was against Celtic Glasgow a few years ago. We have time to prepare ourselves. I hope we have a strong first phase.

Isn't the danger to see Barcelona as an untouchable team?
It's a very French thing to see yourself as smaller than others. We're up to scratch. We have international players who played in the World Cup and who have been very competitive these past few seasons. We're at Lyon to play these big matches, to have these big moments.

In Barcelona, you'll be up against Eric Abidal…
Yes, it'll be great. We'll be up against a player who brought a lot to the side and whom we miss. The past few seasons, he was one of the best players in his position. He will probably face off against Kader (Keita) in what should be a great duel. But it'll be weird to be playing against him, that's for sure.

And your team-mate Ronaldinho?
He remains one of the big names in football. He makes the team tick, he breaks down the toughest situations. He's perhaps the most technically gifted player in the world. He's a player apart; not many players can do what he can do.