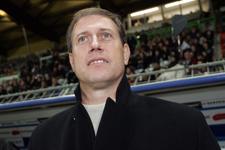 While Alain Perrin is proud of OL's win against Sochaux, in his eyes OL's "best match" so far this season, he's not getting carried away with it. "It's still a fragile situation," he confides.
We imagine you're very happy with the win in Sochaux.
It was our best match since the start of the season. It wasn't simple but the players stepped up and stayed vigilant. I really liked the way our team prepared for and executed this match, with a lot of teamwork and cohesion. In those terms, the team is improving quickly. I'm happy with the fighting spirit my players showed on the road. We had to raise the bar, play higher-quality football. Now we quickly have to turn our attention to the next match to give ourselves the best chance of keeping the ball rolling.

You have the dazzling opportunity to win 9 points in a week…
The goal has always been to get the maximum of points. When you're gunning for the title, you have to be strong on the road, that's what makes the difference. But you have to be solid at home as well. This Le Mans side isn't easy to manage. They've lost 2 in a row but have had a great start to the season. We'll have to watch out because they are a very physical side and an interesting style of play. They take risks in attack, and we have to be wary not to be caught short.

Do you get the feeling that the way your team is seen has changed?
One match doesn't make a trend. After a month maybe you can judge. Things move quickly. Should we beat Le Mans we'll be able to say we're getting stronger. For the moment, we've simply steadied the ship, but we're not out of the woods yet. It's a still a fragile scenario and we haven't found our cruising speed. It's important to string some good results together; we have a chance to do that at the moment and can't really afford to screw it up.

Are you worried about the impact of the upcoming international break?
The players will want to confirm the good result against Sochaux against a complex opponent that is capable of winning in Bordeaux and which always plays away games with the intention of taking the game to their hosts.

After the match against Le Mans, the internationals will head off for 10 days. Does that make this match more important?
A good result would create a good working environment. We would be calmer. We won't actually be that much calmer, but we'll be able to work calmly.

A short word on Juninho. Will he be operational for Saturday's game?
It's still a little bit too early to tell. He will undergo tests tomorrow to see whether he is or will be at 100% for Saturday's game.

What's the news on Fabio Santos?
He has some knee pain and is uncertain for the match. He'll know more tomorrow, after a good night's rest.

How are OL's transfer deals going?
We're still active. The transfer market hasn't closed yet. We haven't abandoned all hope to bring in another 1 or 2 players.