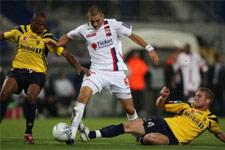 Reactions after the match between Sochaux and OL.
Karim Benzema: Lyon produced some strong play tonight even though there are some holes to fill in. I had a good match tonight and the team showed some strong qualities.

Rémy Vercoutre: WE climbed up the table tonight. We really wanted to get the win, 3 days after winning the derby. Tonight, we kept the ball rolling; we're finding some stability, which is good for our morale.

Alain Perrin: I'm really pleased to win here at a stadium I know well. We were lacking away points. It's good to have won, especially because we played some interesting football. But we can still improve across the board. Once again we created quite a few chances and also managed to score more goals.
Our goal now is to get the 3 points at home to Le Mans. That should get us back on track.

Frédéric Hantz: We were unlucky tonight; it was tough to lose 2-1. I was really happy with our first hour of play, which was enthusiastic and which yielded many chances. We're progressing. We have to take inspiration from the positives tonight.

Matthieu Bodmer : It was important to get the 3 away points. It wasn't an easy match.
With my goal, I was trying to make up for my mistake. But I would much rather not have conceded the penalty in the first place.
We tried to push higher up the pitch tonight.
Tonight the most important thing was to get the win. We're coming back strongly; we're on a good run. Now it's crucial to get the 3 points at home to Le Mans.

Christophe Galtier: In the first half, we were pretty solid even though we were playing a bit too deep. The Sochaliens blocked us out well. In terms of possession, it was interesting. Had we passed better, we could have been even more dangerous. We knew Sochaux was a competitive team that likes to play, so we knew there would be space. So we had to be intelligent in offence and vigilant defensively. The week is off to a good start with a win in the derby and a good performance against Sochaux; we need to keep the ball rolling on Saturday against Le Mans. We'll have to attack hard to win the match.