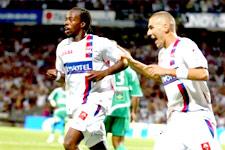 An experienced campaigner with 6 French titles to his name, Sidney Govou has had all kinds of season openings.
So it's with pleasure rather than unbridled enthusiasm that he recognises that "this win (against Saint-Etienne) has done us good – for our spirits, after we lost 2 away games in a row. It was important to win again to get our season back on track." Having climbed to 10th place with a game in hand, on Wednesday the Olympiens will have to count on their "growing confidence" in order to "get at least 3 points from their next 2 matches (in Sochaux on Wednesday and against Le Mans on Saturday)". The points tally isn't alarming just yet but "enough points have been dropped," he confirms. "So we have to get a good resulting Sochaux."

The lucid OL number 14 concedes that the match against Saint-Etienne "wasn't a great match on our part," but notes that "at least we defended well. We tightened our lines and that was reassuring". A good defence is, in his eyes, the key to the Olympiens' comeback. "We have to play less and defend more," he says. "At Lorient, we played fairly well but we conceded the opener and that made things tougher. We have to do everything to defend well to build our confidence. Strong play will follow."

And the method is a proven one: "this has been the basis of our strength in the past." The Olympiens will then have to "work hard to have more offensive presence." In this area, the Lyonnais know they can count on the fine form of Karim Benzema, who has already scored 3 goals in 5 official matches with OL. "I'm not surprised," confides Sidney Govou. "We've seen him improving for some time now. We always knew he had a lot of potential; he has a very mature game. He has the talent and also gets back well to defend." Defending is almost an obsession for him! It must be said that Sid has always had a reputation for getting back to defend often and well. He confirms that matches are won with strong attacks but titles are won with solid defences, so in this respect, OL would seem to be on the right track.