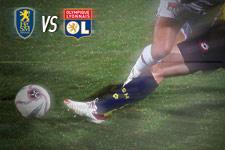 OL now heads to Sochaux on Wednesday looking for its first away points of the season against a side having a bad start to the season…
A meal together after the match, a sleep; recovery, debriefing, medical treatment of running, then a good night's sleep; training before the trip to Sochaux and the match… 72 hours after the laborious derby win, the Lyonnais are putting their boots back on. The calendar demands it… and so does the points tally. The lads have to keep up the good work. OL has won no points on the road so far, the very points that often make the difference for the top-placed teams. OL has won no points in its last 2 games. This trip to the Stade Bonal has to confirm the victory over ASSE and show more of the potential of the current OL squad. Let's face it, OL has been less than convincing so far this season.

The Olympiens really lifted their game on Sunday night, and they'll need to keep it up against Sochaux. The Doubs have seemed cursed since the season began: only 2 points, both won on the road. At home, it has been a catastrophe: no points, I goal scored and 6 conceded in 2 games. It's the kind of record that gets you sent straight down to L2. The fans aren't yet panicking but they are looking for their team to lift their game. And they'll do well to find it… knowing that they lost a lot of good players during the summer… Bréchet, Potillon and Grax are injured. Perquis, the newest recruit, could make his debut. Teddy Richert, the keeper with the worst defence in L1, and co, have no choice: they have to work like hell to get a result. The 2 sides know each other well. They faced off in the Trophée des Champions. It was a good start-of-the-season win for an OL side organised without Juninho in a 4-4-2. Since then, the Brazilian has made his return; Alain Perrin has changed his preferred formation to the "traditional" 4-3-3. This change has led to more changes in personnel, of which Baros is the most regular victim. With the matches coming thick and fast, the next one being on Saturday, the former Sochaux manager could well rotate his injury-ravaged squad. Roux will be the substitute keeper; Cleber Anderson isn't yt ready to play… and Juninho has some thigh trouble. Will he be ready to play? The trip to Sochaux has been a winning journey for OL in the past few seasons – 4 wins in a row. And it's been 10 matches since OL lost to the Blue and Yellows. The string of injuries aside, it would be terrible to end such a fine run now. So gentlemen, keep up the good work!