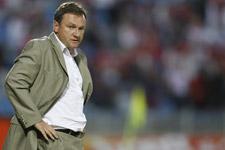 Sochaux has started the season poorly and are still without a win… and have lost all their home games. With just 2 points, they are at the moment in the relegation zone…
2 away draws: nil-all away to PSG and 1-1 with Lille; 3 losses: 3-1 in Valenciennes, 3-1 and 3-0 against Monaco. They have 2 points and have scored 3 goals, conceding 10. The Sochaliens have the worst defence in the league.

3 goals scored: Birsa, Dalmat and Quercia. 2 goals from inside the area and 1 from outside. 3 goals in the first half.

91 shots for 3 goals! 29 shots on target.

10 goals conceded: 9 inside the area and 1 from outside' 2 headed goals, 1 penalty (Le Mans); 3 after crosses; 1 after a free kick; 1 after a corner. 5 goals conceded in either half.

5 yellow cards: Pichot 2, Sène 2 and Dalmat 1.

19 players used. Richert and Séné have played all 450 minutes this season. Pichot, Pitau, Isabey, Maurice-Belay, Dagano and Jokic have played in all 5 matches.

14,093 spectators for the visit of Le Mans and 14,091 when Monaco came to town.

Maurice-Belay, Jokic, Dalmat, Mathis and Dramé arrived during the summer, as did manager Frédéric Hantz. Brunel, Leroy, Le Tallec, Lonfat, Potillon, Ziani and Tosic left… as did management duo Alain Perrin and Christophe Galtier.

Injuries have plagued the club since the start of the season: Jérémy Bréchet, Tall, Mathis and Grax…

Sochaux lost the Trophée des Champions 2-1 at Gerland.

Sochaux has lost 4 league matches in a row against OL at the Stade Bonal: 2-1 (2003-2004), 2-0 (2004-2005), 4-0 (2005-2006) and 1-0 (2006-2007). In total they are 10 matches without a win against OL.