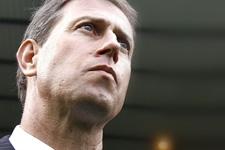 Alain Perrin discusses OL's derby win over Saint-Etienne (1-0). The OL manager also discusses the upcoming trip to Sochaux on Wednesday, a match in which neither Cleber Anderson nor Patrick Müller will be able to take part.
Were you satisfied with the win over Saint-Etienne?
Somewhat, yes, considering the deserved result and the commitment the lads showed. It'll bring confidence to the side. We lost points away from home, so effectively we're behind schedule. We need points and have to make them up on the road.

Are away wins becoming a necessity to make ground?
They're not imperative yet, as we have the whole season in front of us; but we have the ambition of affirming our status. Because it's with away wins that you reach the top of the table.

How will you go about getting a good result in Sochaux?
We need to keep up the good points from the match against ASSE, the same morale and teamwork. The confidence we took from the Saint-Etienne match should allow the players to unleash their talents. We need to redress the imbalance as far as our away record is concerned. We also have to be prudent because the match against Le Mans is looming.

Sochaux is a team you know well…
It'll be nice but I would liked to have played them when they're not in difficulty, as they are now. Even though I know a couple of players, there are lots of new faces. Sochaux is in a bit of trouble right now. So we're expecting a match against the side we beat in the Trophée des Champions, who will be very motivated and looking for revenge. The Sochaliens will want to move us around and have a huge match against us. We'll have to be on the money mentally if we want to bring back the 3 points. Our win in the Trophée des Champions gives us something of a benchmark, but it was before the season began. The first matches have taken a heavy toll, and now we're in a period of convalescence. We need to get stronger.

Will Cleber Anderson be in the squad?
No. He felt some calf pain, which is easing. The problem is that, when you don't know a player, you have to investigate in some depth to avoid his picking up an injury. For the moment, it's going well but we want to be sure about it. So he'll be out for the Sochaux and Le Mans matches.

How is Patrick Müller doing?
There's a lot of uncertainty as to when he'll be back, as he has injured himself again. We hope to have everyone back after the international break. For the Sochaux match, Juninho is the only doubt after he felt some pain in the back of his thigh. We'll decide tomorrow.

How is the recruitment going and what type of player are you looking at?
An attacking player, on the left or in the middle. We need another attacking player. In the beginning we were looking for a central striker for the 4-4-2 formation, in light of Fred's injury and the need to rotate our attacking players. Also, the position of left-footed attacking midfielder, or left-sided attacking midfielder, has no understudy. We only have Hatem (Ben Arfa) for the position. We were following several leads that for various reasons we couldn't bring to a conclusion. Some players were too expensive, some clubs didn't want to let them go. So we need to develop our recruitment unit so that Rémi Garde isn't all alone. Enlarging the recruitment base is on the cards for all the big clubs anyway.

Rémy Vercoutre seems to have found his feet…
Rémy is in the last year of his contract. His career is on the line in the next few weeks, that's a lot of pressure, and he hasn't had many matches to prepare. So he was really in need of some game time to find his feet in competition. He made some decisive saves in Lorient. On another note, Frédéric Roux will be in the squad for Sochaux.