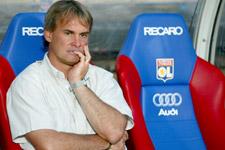 Reactions after the match between OL and ASSE.
Christophe Galtier: It was a good night in terms of the result. It was a special night. We knew the whole city was behind our team. There was a lot of pressure on our guys – we had to win this match. We knew we were going to play 3 matches in one week, so it was important to get of to a good start.

François Clerc: It wasn't a flamboyant win but in terms of our mentality and position on the table, it was very, very important. After our 2 away losses, we had to bounce back fast. That's why, at the start of the match, we held back a bit. I hope now that we can keep the wins and the points coming. We have to hold onto the winning spirit and keep things tight. If we can stick together, we'll have no problems.

Karim Benzema: It wasn't an easy night for either team. It came down to a battle of wills and mentalities. We started well and stayed in the match. I scored tonight but the most important thing is that the team played well, because if I did well, it's because the team played well.

Matthieu Bodmer: After 2 losses on the trot, it was important to get back to winning ways; especially in a derby. We kept a clean sheet, which is excellent.

Laurent Roussey: We're disappointed because our game was on terms with Lyon's. They lacked a bit of calm in their play but they scored the winning goal. We could have hoped for a better result had we been more clinical in front of goal.

Toto Squillaci: In the first half, it was tough because Ilan caused us a lot of problems. In the second half, we pushed up higher and things went our way. After 2 away defeats in a row, we really wanted to win. Even though it wasn't a perfect performance, we won. Now we need to recover well before going to Sochaux.

Rémy Vercoutre: Getting the 3 points tonight is great. I kept a clean sheet, which is great for me. Tonight's mission was to be solid. We know we have vast attacking potential, but we needed to be strong in defence to make the most of it. It's a turning point in our season. Personally, I made some progress tonight. It wasn't perfect but I'm starting to find my feet and a good understanding with my defenders.

Juninho: It was tough tonight because AS Saint-Etienne played a good match. The match was tight and evenly balanced. The team is still developing its game and its understandings. But we had enough talent to step up.

Jean-Michel Aulas /b>: We mustn't dramatise the departures from our squad because we have covered them. We have a slight problem with confidence and getting going. We have to look at the situation calmly; we beat Lille, we won the Peace Cup and the Trophée des Champions, then beat Auxerre. Then there was an anomaly against Toulouse, without which we probably wouldn't have lost against Lorient. Matches play out on the slightest details and often the psychological aspect has great importance. Then we had a string of injuries and the calendar has set us back because we won't face Lens at a good moment – it will be just before a Champions League match.
This match against Saint-Etienne had taken on great importance. I was confident because I know our lads are very talented, they just needed to find some confidence. And they did it – they should be congratulated.
As for transfers, we were obliged to close up shop – not because we didn't have the money, but because we're not sure whether we really need to sign any more players. Alain Perrin said we needed another striker but results are showing that we already have 3 excellent forwards. We could sign a big-name striker but how then to deal with the psychological problems that poses? We can't just put Karim Benzema on the bench! We have the money to recruit high-level players but simply aren't sure we need to. As for Wilian, we weren't just going to do whatever: he was sold for $19m!
Mancini is one name on a list of players who could interest us. Along with Gudjonhsen. His chances of coming here are slim.