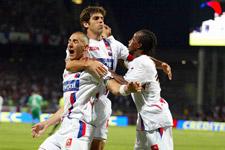 Because it's a derby, the match between the Lyonnais and the Stéphanois is unlike any other match. And because OL was coming off 2 consecutive losses, the win by the narrowest of margins has much more resonance than an average 1-0 victory.
More than a tactical or technical domination, this match saw OL dominate their neighbours psychologically. This derby more than any other in recent history seemed to be the chance for ASSE to break their winless streak in the derby. And though OL wasn't perfect in their performance, they proved nonetheless that they hadn't lost the force that had made them so strong for so long: a never-say-die attitude and an insatiable thirst for success. When they possess these qualities, there is nothing they can't achieve.

So it was in this context, in an evenly balanced match, that Juninho burst through the middle and that Karim Benzema took it upon himself to convert his chance. It may not have been the most attractive goal of his young career, nor even his most distant strike. But history will reflect that it was a native of Lyon, who trained at the OL Youth Academy, who handed his side the victory. History, and football, loves these moments where sport and the heart find common ground. Benzema has been perhaps the highest-profile Olympien in recent weeks, so it seems fitting that the young France international guided his side to victory.

Until the goal the match was a well-balanced affair. For 50 minutes Laurent Roussey's men had done better than simply resist OL. Much less timid than in their last few visits to Gerland, they constantly threatened the OL rearguard. It must be said that the ASSE manager hadn't skimped on his efforts to bring the 3 points back from the capital of the Gauls. In fielding Payet, Feindouno, Ilan and Gomis, the former prodigy of French football went all out. But they needed to be much more clinical in front of goal and much more clear-headed to put an end to 13 years of disappointment.

Payet fired narrowly wide with a couple of cheeky shots from distance (7' and 23'. Gifted and enterprising, Feindouno forced strong saves from Rémy Vercoutre (13' and 21') before basting the ball into the Southern stand (51'). Gomis, mobile in his centre-forward position, could have opened the scoring had he better negotiated his duels with the OL keeper (8' and 45').

The Lyonnais proved much more inspired than in their recent defeat to Lorient, this time starting in a 4-3-3 "á la lyonnaise", with Milan Baros making way for the single-striker system and Juninho taking his customary place next to Källström and in front of Jérémy Toulalan in the midfield. In the first half the Brazilian troubled Jérémy Janot on 2 occasions. The ASSE keeper punched clear his free kick and then saw the ball sail across the face of goal, finding no takers among the Lyonnais (14' and 26'). In the role of lone striker, Karim Benzema was given only the slightest latitude and shot over (35') before, at the end of a fine solo run, Kader Keita fired straight at Jérémy Janot (36').

And as is so often the case, it was Juni who set up his side's victory; although perhaps not in the customary way. He broke on the right and crossed, with ASSE's Tavlaridis getting to ball first and deflecting it onto the post. Alone on the goal line, Karim Benzema had no trouble in tapping in the game's only goal (53').
Janot was called into action again from a Juninho free kick that Kader Keita threatened to get on the end of (64') and then took two bites to save Kim Källström's long-distance shot (74').

A committed and tight unit, the Lyonnais hung onto their narrow lead by only allowing the visitors rare opportunities – Guarin and Douala both fired wide from distance (78' and 80').

Thanks to this win, the Lyonnais climb to 10th place on the table (with a match in hand). But above all this match proved that even in a tough period of breaking in a new squad and of injuries to star players, OL has enough pride and talent to make the difference. Above and beyond the numbers involved with the win, OL's most valuable gain from this match is the boost to their morale confidence. Even though it's too early to speak of turning points in the season, should the Olympiens have yet another successful end to the season, this match will be looked back on as a firm foundation for the 6-time French champions.