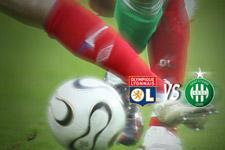 After 2 away defeats in a row, OL returns to Gerland… to take on Les Verts in the 94th Rhône-Alpine derby. A match whose importance stretches well beyond regional supremacy…
During training on Thursday afternoon, the maddest OL fans made it perfectly clear to their idols that they were still right behind them and strongly anti-Saint-Etienne… but also that they were expecting a victory at least! "
Fight like soldiers…
." This instruction was written on one the fan banners and sums up what was missing in last Saturday's match against Lorient. There is no question of throwing the baby out with the bath water, as
President Jean-Michel Aulas
said slightly afterwards in the press conference for the unveiling of Cleber Anderson. No question either of getting into a state after collecting 3 points from a possible 9. Of course there are explanations for this but patience evidently has its limits. Everyone expects OL to be much better in terms of results and style of play. "
This derby comes just at the right time
." In saying this,
Jean-Michel Aulas
expressed his desire for the team to bounce back in what is always a special environment – this derby could get OL's season under way. Sure, Coupet, Cris and Fred will be receiving treatment for their injuries fro some time to come. Ben Arfa and Müller are out of action. But Govou, maybe, and Källström rejoin the squad along with Frédéric Roux, the new understudy to Rémy Vercoutre. OL is also waiting to see
Cleber Anderson
play as well as a possible new attacker. Also, the
Wiltord
saga has finally come to an end.
"There are always adversaries who hope you don't do well"
Not everything is going to plan for the Olympiens; habit pushes us toward optimism but it can be tough! It's up to Alain Perrin to find the right formulae; to the staff to engender a team spirit; to Juninho to rediscover his joie de vivre, form and finishing; to the new signings to put their best foot forward; and to the leaders to get the team to play above itself… to get the ball rolling again for the 6-time French champions.

In a football match, there are always adversaries who hope you don't do well. This self-evident axiom takes on a different importance in a derby. OL's green neighbours are 2 points ahead but have played an extra match. The Stéphanois above the Lyonnais on the table? It's been a long time since that happened… This ASSE side has undergone many changes over the summer, notably in defence – and a lot of improvement was needed! Les Verts finished season 2006-07 with its attack ranked in the top3 (52 goals) and their defence ranked 18th (50 goals conceded). Tavlaridis, Varrault and Nivaldo would be hard-pressed to do worse than Camara, Hognon, and Ilunga… As for attackers Gomis (10 goals), Feindouno and Ilan (9 goals), they are still at the club. ASSE's fans are without doubt thinking that finally the time has come to punch the lion in the face and put an end to their run of 15 derbies without a win, under the auspices of new manager Laurent Roussey, who announced (see France Football from August 24) that their quest for excellence could well be taking shape.

So it's time for this early derby. Time for OL to get back to winning ways, be it pretty or ugly… it doesn't matter. This derby is coming just in the nick of time… to get some points.