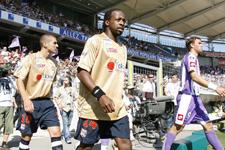 There will be several players on both sides who haven't played in the derby before… Coupet is injured… Sablé has gone to Lens… several key derby identities will be missing, making Govou the most experienced one left…
On one hand we have the Stéphanois Nivaldo, Talvaridis, Varrault, Matuidi, Douala, Gigliotti and Payet… on the other , the Lyonnais Belhadj, Grosso, Bodmer, Keita and Fabio Santos, not to mention youngsters Beynié, Mounier and Paillot. What do they all have in common? They've never played in the derby. To this list we can add the names of the 2 managers, Laurent Roussey and Alain Perrin. Laurent Roussey has taken part in the derby before, but as a player.

Among the most experienced derby players, Coupet (12 derbies) will obviously be absent. For ASSE, Sablé (10 derbies) has moved on. Sidney Govou will be the most experienced derby player at hand, with 9 derbies, followed by Janot, who has played 7 derbies for Les Verts. Serge Chiesa (30) remains in the lead, far in front of Yves Chauveau (25) and Robert Herbin (24).

Before this 94th derby, what is the head-to-head record? At Gerland, OL has won 21 times, drawn 14 times and lost on 11 occasions. At the Geoffroy-Guichard, ASSE has won 27 times, drawn 12 times and lost 7 times. OL qualified for the Coupe de France in Annecy. In total, OL has 29 wins, ASSE has 38 and the sides have shared the points 26 times. The last ASSE victory? 3-0 on April 6 1994 at the Geoffroy-Guichard. At Gerland, it dates back to February 26 1993 with a scoreline of 2-0. That means OL is unbeaten in the last 15 derbies.