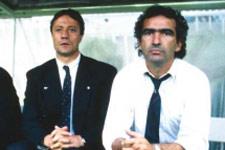 While Bernard Lacombe was the last Olympien to experience a derby on the field and as the manager, Laurent Roussey will become the 7th Saint-Etienne man to do the same thing, when the teams meet on Sunday night…
The former Les Verts striker played 7 derbies in the green shirt. And while he never lost one at the Geoffroy-Guichard, he never won one at Gerland. A look back:
At Gerland
: 18/08/78, OL 2 ASSE 2 (Bernard Lacombe and Jacques Santini were playing for ASSE). Starter.
9/09/80, OL 1 ASSE 1. Replaced Zimako in the 65th minute.
3/09/82, OL 2 ASSE 1.
At the Geoffroy-Guichard
: 12/09/81, ASSE 4 OL 0, he replaced Rep in the 71st minute.
1/03/80, ASSE 2 OL 0. Starter, replaced by Zimako.
22/02.81, ASSE 3 OL 2.
30/01/83, ASSE 1 OL 0. Starter and penalty scorer (47'). Replaced by Yves Colleu in the 76th minute.
Laurent Roussey
will become the
7th ASSE player
as both a player and a manager after Herbin, Philippe, Sarramagna, Santini, Bathenay and Repellini.
Jacques Santini
has also been involved in managing a derby, for OL, while
Bernard Lacombe
took the field for Les Verts.
Laurent Roussey
has manager Rouen, Créteil and Sion before becoming Claude Puel's assistant at Lille from 2002 to 2006, then assisted Yvan Hasek at St-Etienne last season.
Derby banner


---

The derby is on OLTV and OL Web Premium

copyright OL Images 2007