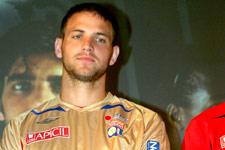 On Sunday August 26, Matthieu Bodmer will play in his first OL-ASSE derby. While he knows the stakes are at the moment not so high, the former Lille player can't hide the fact that OL has to win. "We need a win to get back on track," he confided.
Isn't it tough to prepare for the derby without the national team players?
It's a bit tricky because there aren't so many of us at the moment. Quite a few youngsters from the CFA side have come to join us. We've worked well for 2 days; we've done a bit of musculation work and some basics; for those who stayed here, it's a good week's work.

On Sunday, you'll play in the derby. What do you know about this fixture?
I've heard stories. I played in some Lille-Lens derbies. That also got pretty heated. They're always special matches. For the fans, it's important that we win on Sunday night. In terms of our points tally, we need a win to get back into the running in the league. It's a crucial match. I hope we can find the spark we need to set us back on the right track.

Personally, you'll be facing up to several former Lille men…
Yes. I think there are 3 (Tavlaridis, Landrin and Dernis), and their current manager, too (Laurent Roussey). We got along well in the North, so it'll be good to see them again.

So a win in the derby will both reaffirm your regional supremacy and steady the ship…
It's always important to win the derby against your regional rival. Also, we're already 7 points behind the lead, where there are teams like Lorient, Le Mans et Nancy. We have to make up this disparity as quickly as possible. In the space of one week, we'll play 3 matches with 9 points up for grabs. We have to take them. On Sunday, the most important thing is taking the 3 points on offer.

Do you feel this is a must-win match?
Yes, because another poor performance would mean the start of the season has been a write-off. 10 points behind the lead, we'd be in serious danger of not playing for the title.

Do you get the feeling it's a special match?
Not really, not at the moment. No-one's talking about it. We'll see later on, but I've seen them on TV and I know the atmosphere is special.

Has it come too soon?
No. We're coming off 2 losses, so we have to win. The fact that it's a derby is just extra motivation. It's a good thing.

How is this derby different from the Lens-Lille one?
At Lille, the stakes seemed to be higher. There were several natives of Lille in the team who were lifelong fans of LOSC. It's different here.

Are the lads worried?
No. We're focused. We're working hard to bounce back and try to make up for lost time.

How do you feel in central defence?
Well. I do what I can to use my limited defensive experience. But it's not my thing. I'm much more at ease in the midfield.

The France team plays tonight. Was it disappointing not to be on Raymond Domenech's list?
A bit because it was a big list. But it's not a surprise because I've just arrived at a new club and haven't played much recently. There'll be other lists.