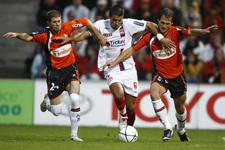 The Lyonnais would certainly have imagined their season would get off to abetter start than this. A week after their defeat in Toulouse, their second-straight away game turned out to be a second-straight defeat. Vahirua shone, scoring 2 goals. Karim Benzema scored OL's only goal.
After 3 rounds, the 6-time French champions are 11th on the table, 7 points behind Le Mans and Lorient (but with a game in hand). At the end of a week truncated by national team friendly matches, they will take on Saint-Etienne on Sunday August 26 with the double objective of beating their regional rival and steadying their own ship.

The Lyonnais ha been warned however: the hero of the match is only too well known to them. Scorer of a brace, Marama Vahirua made a large contribution to their loss. The will of the Breton side and lack of inspiration of their Lyonnais counterparts did the rest.

The first few minutes didn't augur well for the reigning champions. Already without Coupet, Cris, Källström and Fred, Alain Perrin was forced, after just 20 minutes of play, to bring on Nadir Belhadj to replace Hatem Ben Arfa, who was injured in a tackle with Nicolas Marin. To make things even tougher for the Olympiens, Marama Vahirua opened the score wit ha stunning acrobatic volley from the edge of the area (14'). Making the most of a weak clearance by Fabio Grosso, the Tahitian confirmed his status at OL's bête noire… while Karim Benzema showed that he is one of the stars of the 2007-08 season.

Clear-headed after an aborted one-two with Milan Baros the OL striker victoriously lobbed Fabien Audard, putting his side back on level terms with their Breton hosts (32'). The Lyonnais could count themselves lucky soon after as Saïfi's header crashed against Rémy Vercoutre's crossbar, but also wasteful for not being precise enough with the final ball. Firstly Karim Benzema and Kader Keita found themselves alone in front of Audard , but the OL number 10's shot flew wide to the right (21'). A few minutes later, neither Keita nor Baros could slot home Fabio Grosso's cut-back cross (30'). After a passing move with Benzema, Nadir Belhadj shot wide (42') and then Fabio Grosso saw his header deflected by Vahirua but then easily snapped up by Audard (45').

After an encouraging start to the second half, neither Benzema nor Baros could get their shots on target (54' and 58'), and the Olympiens seemed incapable of creating the slightest of chances for the final half hour, leaving the initiative to their Breton hosts. Abriel forced Vercoutre to fist clear (60') and Mathieu Bodmer cleared Nicolas Marin's effort from the line (63').

And then Vahirua knocked out Fabio Grosso and co, scoring his 7th goal against OL. Getting in behind the Italian, Nicolas Marin crossed for the Tahitian. At point-blank range, Vahirua blasted past Vercoutre for the second time that night (64'). Behind on the scoreboard but incapable of bouncing back, the Lyonnais submitted and again left the initiative to Christian Gourcuff's men. Shots from Vahirua and Namouchi flew over (65' and 69'). In stoppage time, Bodmer blocked Abriel's shot and Vercoutre punched away the effort from Saïfi (90' and 91').

The Lyonnais will be well inspired to bounce back against Saint-Etienne on Sunday. On this occasion, the motivation certainly won't be lacking. OL will have to get over its injured pride and react with a real strength of character – something that shouldn't be completely lacking in Lyon!